Are you ready to start your New Year off right? Then you will want to grab this 23-page printable goals planner. This 8.5 x 11 PDF printable is perfect for setting short-term, long-term, and SMART goals this year. Become the version of yourself, you have always wanted to be! Stay organized and track your goals and habits with this amazing planner! You can finally be successful and hit as many goals as you want too, in 2022!
Pages include: Cover page-front, 2022 Wall Calendar, monthly challenge, habit tracker, monthly goals, weekly goals, weekly review, goals tasks, books to read, trip goals, daily goals, SMART goals, Workout goals, goals steps, Goals Categories, Quarterly goals, Reflection, and planning, to make the most out of…, project time-line, cover page-back.
(This is a digital product and no physical items will be shipped. You will receive your digital download for personal use upon payment).

Purple Paint Positive Thinking Journal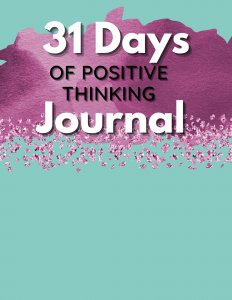 31 Days of positive thinking!
Are you feeling down lately? Do you need a pick me up? Try this amazing positive thinking journal to get you out of your rut.
Let's face it, life can be hard. It is easy to have negative thoughts and focus on the bad.
Yet, did you know you can be a happier person, by simply changing the way you think? And science shows it takes around 21 days to form a habit. So why not give this positive thinking journal a try and commit to a month's worth of positive thinking.
What you will get:
31 days of positive thinking activities and lined paper to write down your thoughts and activities for each day.
Also, a monthly view of the activities and cover page.
Give positive thinking a try with this totally cute journal for only $9.99.
(This is a digital product. Once payment is received, you will get a digital download you can print at home and use over and over.)